If you want to spread your brand name at your market, BioGnost gives you the ability to display your company's name, logo and contact information on our products. You can send us your design or we can design it for you. Pricing varies by product specifications.
We can offer you customized manufacturing, labeling, packaging and filling of products around our full range of manufacturing capabilities performed by highly trained professionals in ISO 9001:2015, ISO 13485:2016 and ISO 14001:2015 compliant environments. BioGnost has in-house quality control laboratory where every batch is tested and we assure that the highest standards are achieved through ISO regulation. All products in our product range are available in different packaging sizes as well as in convenient bulk sizes.
---
OEM Workflow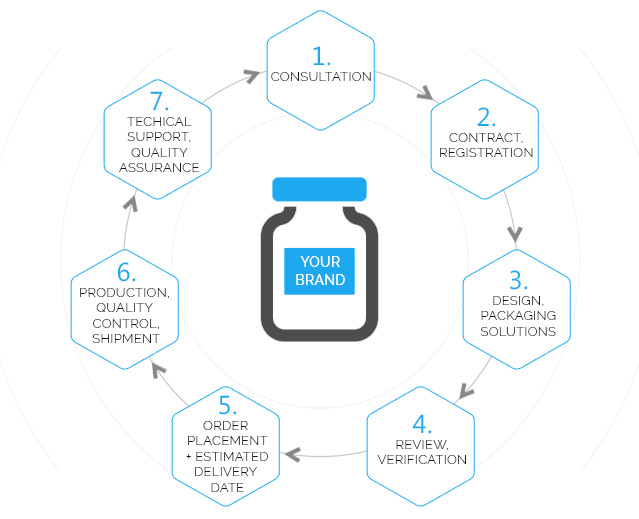 Contact our specialist for an OEM production consultation where we will clarify your goals and requirements.
After discussed details, terms and conditions, contract between two parties is signed and you can proceed with product registration (if needed) on your market.
Provide us with your existing label design that you want to use or our Graphic design team can design them for you keeping in mind your ideas. In this step you can also choose volume sizes and packaging options that suit you the most.
Tell us any changes that need to be made until you are completely satisfied.
When you place an order, it is processed and planned into production. Soon you will receive estimated delivery date.
Every product is tested in our Quality Control laboratory and must meet our quality standards. After finalization, your order is shipped.
After you receive your order, we offer you technical support and quality assurance.